Hello, hello! I hope your weekend was full of relaxation and rest. Mine sure was! I spent some time with a friend visiting from out of town on Friday and Saturday- always a favorite of mine! Unfortunately, we were puddle jumping through rain and steamy humidity on Saturday. That made the 70 degree weather we experienced on Sunday that much better. I did some much needed cleaning around my apartment and started to get things transitioned over for fall. I'm getting excited just talking about it!
After the Labor Day holiday, I switch gears into fall mode. I'm not a Pumpkin Spice Latte girl (gasp, don't send an angry mob my way!), but I fully embrace other aspects of this lovely time of year. I love the mild daytime temperatures, cool nights, and gorgeous scenery! In preparation, I made several little changes around my place that help me to transition to fall.
First, I packed up all of my whites. I am not one of those gals who continues with white clothing after Labor Day. It works for many, I know, but one of my ways to embrace the cooler weather is a seasonal color palette. There are SO many gorgeous colors that you can get back into that have been packed away all summer and to be perfectly honest, many of my whites aren't warm enough to be worn during the fall. Bye bye shorts, tank tops, and tissue tees. Hello sweaters, dark denim, and layering pieces!
That brings me to my second tweak for fall- rotating my cold weather items to the front of my closet. I have everything that I own with me up here and limited storage space, so I keep all seasons of my clothes in my closet. To make mornings easier, I just keep the current season's clothing front and center and rotate the off season clothing to the back. That way, I spend less times sifting through my things to find something weather-appropriate. Keeping my current season's clothing at the front also helps me identify what else I need to purchase. I keep to a pretty strict budget (you can read more about that
here
), so I keep a running list of things that I want to buy. That way, I don't spend on things I already have. It will start getting cold here soon and it takes over so quickly! I want to be ready!
While I was in my closet, I took inventory of my sweaters and shoes in preparation for fall shopping. There are so many cute trends this year and I am still trying to figure out which ones I'm actually going to embrace. Because I don't shop all that much, I mainly stick with more timeless pieces (aka the bigger, more costly items) and may get more trendy with my accessories.
Lastly, I made a quick stop at Bath and Body Works to pick up some fall-scented items. I don't normally do this last change but I love love
love
burning candles in my apartment. I typically opt for light and floral scents, not usually heavy or sweet/food scented candles. However I couldn't help myself this year. I picked up some Pumpkin Pie candles and fall hand soaps. I think they add the perfect touch and will be used frequently.
I just love the detailing on the lid!!
I'm linking up today's post with Tutu Tuesdays!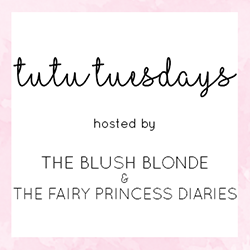 What have you done to get ready for fall? Do you have a staple item (candle, drink, etc) that just screams fall in your world?